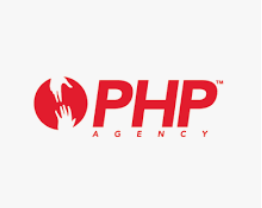 Hello and welcome to my php agency review.
Making money selling life insurance seems to be fun?Well,that's what I thought when I joined primerica back in 2017.
Three years ago to be exact.
In this review I will tell you my experience while selling insurance and whether you should join php agency or not..
Before writing this review I spent hours and hours reading and watching it's reviews on different platforms.
Some were biased and promoting php and others were promoting their own mlm company.
But this review is going to be entertaining and completely unbiased as I do not own a mlm agency nor I will give you mine link to join Php.
What I mean is that this review is from a third party which has nothing to do with Php agency.
Whether Php agency is a legit mlm company through which you can make money,Or it is just another mlm which is making fake promises and misleading youth.
Let's start this interesting review.
Before starting this review,Check Out my #1 recommendation to make money online after reviewing 300+ mlm companies.
>>> If You Want To Really Get Rich Online,(at an average of $1500 per sale PER MONTH),Watch This FREE Training <<<
What Is the Php Agency?
Php is derived from people helping people or people helping Patrick?
We will look into that in this review.Php agency is a multi level marketing company which sells insurance and financial products.
It was launched  by Patrick Bet-David in 2009 and it's center is in California.Before this Patrick worked for WFG which is a pyramid scheme.
Wfg is a pyramid scheme and ran by Sikh community(Indians) in USA.Now,what Patrick did here?
He grabbed the idea of the pyramid scheme he worked for years to come out with Php Agency.
Php Agency is kind of a restructured version of  world finance group.
Before writing this review I knew Patrick because he has the most popular youtube channel named Valuetainment.I came to know him because of Kobe Bryant.RIP
Kobe Bryant had the last interview of his life with Patrick on his youtube channel(valuetainment).
The content on his channel is valuable and I often watch entrepreneurs interview there.
I had not a single clue that php agency is owned and running by Patrick before this review.
Back to the topic,Php agency has over 12,000 agents selling insurance all over the USA and they claim that their company has helped more than 200,000 families in the US.
Php Agency is partnered with these insurance companies and php agency is a third party between you and them.
Some of them are popular insurance companies while others are brand new and maybe they partnered to promote and market them.
Why you should join Php Agency
Well,I can't say much about it but according to Php agency opportunity Brochure they mentioned some reasons for which you should consider joining this mlm company.
Being Your Own Boss
Well,after joining this company you can be your own boss.
This is what something I think is not right.
People helping people company is marketed with these kinds of claims.
Now,I have reviewed hundreds and hundreds of multi level marketing company and while working for one you can not be your own boss.
You have to work 24/7 and the pressure of recruiting and selling is very bad.
This is the thing that most of the people do not understand.
How can you be your own boss when your commissions,downline,products are all controlled by company?
And on the policy page they mentioned that they can cancel affiliates memberships anytime for any reason without telling you about it.
Financial Freedom
This is another point which companies stress on mostly,the term financial freedom.
By joining php agency you can be financially free.
But I have a random thought that if you are working 24/7 how can you be financially free?
You have to work everyday for that money and for making money you have to consistently sell products and recruit people.
I want to mention Jordan Belfort quote here,
"If you do not find a source that can generate money for you while you sleep,work till your last breath then."
This kind of business can actually give you financial freedom which you are absolutely not getting in a php agency.
Is Php Agency A Pyramid Scheme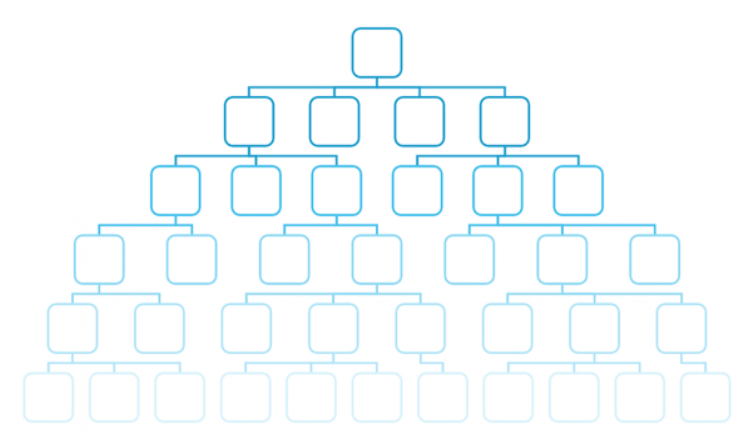 Yes,it is a pyramid scheme.I know this is a very bold statement but as I say that before writing any reviews on my website,I like to really dig into that mlm/pyramid scheme.
This company is structured like that,means that if you want to make good money then there is no other way for you except to recruit more and more people.
Php is all about recruiting.. recruiting.
All the time the owner of company,Patrick,mentions how to provide value to others while recruiting.
Also on their compensation plan they did not mentioned that how much you are going to make on retail sales but have mentioned how much you will make on recruiting.
The company's main goal and focus is to recruit affiliates and convince those affiliates to recruit others.
That's a straight pyramid scheme.
This is my point of view.Now let's have a look at what the company says about this and what is their stance on it.
According to the Php Agency owner it is a multi level marketing company because they have products.
Well,many pyramid schemes nowadays have their own products.
A Mlm is called pyramid schemes when most of its revenue comes from recruiting other affiliates instead of retail commission.
This is exactly the case in php agency.
Their most revenue is coming from recruiting affiliates and they also focus on it.
As,I said that in their compensation plan too,they did not mentioned how much you are going to make on retail commissions clearly.
But they did mentioned how much money you will make for recruiting affiliates.
Main goal of all this is to make you understand that Php Agency is a pyramid scheme and they are illegal in USA.
Most pyramid scheme who claims themselves Mlm shuts down by FTC.
And there is a very strong chance that Php Agency will be shut down in near future.
No matter whether they think that they are multi level marketing company or not.
Because no pyramid scheme's owner claim their company pyramid or ponzi.'
I remembered that I reviewed another Mlm company ACN which was a pyramid scheme and shut down by FTC multiple times.
Also the owner of Php Agency,Patrick,has a strong background working with pyramid schemes(WFG).
Success Rate Is Damn Low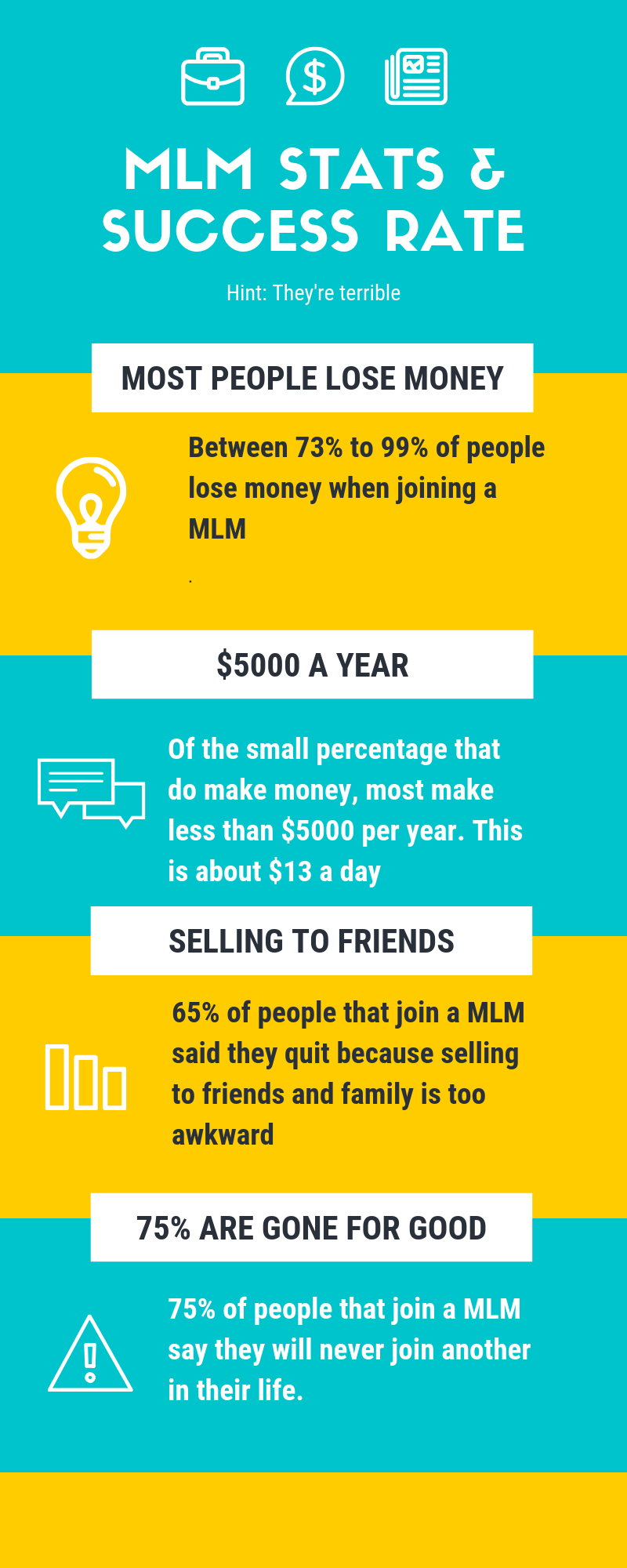 You know what,most stats showed that 99% people who joins MLM end up losing their money.
This is the fact that the person who is trying to recruit will never disclose in front of you.
Now,the 1% people make only few hundred dollars a month.And they are on the top and very successful affiliates of that Mlm.
These are the most aggressive and moral less people who tend to bother their friends and family every now and then.
Now there are two obvious reasons why Mlms fails and most likely you will end up losing money In Php agency.
1 – Products are Damn Expensive
2 – Recruit f&f or strangers is difficult
Now,I have one question for you.
Why people on this earth will buy insurance from you when they can buy it from some other company which is 3x cheaper than yours.Makes sense?
The next part is recruiting,it is the most difficult job in the world.
Study showed that almost 77 to 99% people that join MLM end up losing their own money instead of making some.
Markets Php Agency Focuses
Now,Php focuses on middle class people for marketing.
This is very unique approach because all the mlms nowadays focus just on the upper class because they think it is easy to sell them their products.
Now,php agency did very different here.
They focused and targeted middle,average and below average market.
So,according to the company,agents should target lower middle class to sell their products like Final expense and Medicare advantage.
Or if they want to follow other Mlms rules and are experienced enough then they can also target upper income markets to sell expensive products like Annuities.
Now this approach is very unique and I think it is a very clever idea to hit the market which is not saturated.
When you compare wealthier markets with lower middle class markets,they are very saturated.And lower middle class markets are the one which is not getting many eyeballs.
Here php agency held it's stake and came up with an idea to sell these kinds of insurance.
Basic Information About Php Agency
Now,I want to tell you some more information before digging deep into this company..
How to make money with Php Agency?
As php agencies claim themselves to be a multi level marketing company so there are two ways for you to make money from it…
1 – Sell insurance and make commissions on it
2 – Recruit people and build a downline which is what they focus on.
The first method is called retail Mlm method and in this as clear from the name you will make commission on each sale.
It works pretty much like B to C business model.
Now the second one is recruiting.
In this you have to recruit people to make recurring income/commissions.
If you do not know what is recurring income,it means that do the work once and then make money on it till the person you referred keeps on paying the company.
As far as the person you referred to the Php agency keeps on paying the company,you will make commissions.
Ever heard a word ponzi scheme?Exactly,In these kinds of business model companies work like a third party.
There is no way that you are going to make money from the company instead of recruiting people.
So,when you recruit a person and he pays,the company will cut their commission from it and give the rest of the money to you for your efforts.
I think I explained it not so very well hah.
But let's move to another important topic.
Is Recruiting Necessary With Php Agency?
Yes,it is very important if you want to make any kind of money with Php agency.
The good part is that the owner of this company is not ashamed of bothering his family and friends.
I watched one of his webinars where he is brainwashing the seminar by saying..
"You should not be ashamed of recruiting your friends and family members.Because they are not paying your bills."
This is how the 1% people end up making money with multi level marketing companies.
This is because these are the most shameless and moral less people.
Sorry for going hard but I know how frustrating it is to get a text for every other day from a new friend pitching his business idea to me.
I want to add a little accident happened to me last week.
An old friend of mine approached me and said that his friend pitched him a business idea where he will make $200/month on autopilot.
He had to do nothing.
Just invest $1000 into the company and then see the money rolling in.
That's the exact thing told by the person who is trying to sell his idea to my friend.
I knew from the start that he is not selling with honesty and asked my friend what company is he willing and convincing to invest you in.Remember one thing..
"When someone sweats like a pig to sell you something,he ain't kosher."
"R2F" my friend said.
As I did these reviews I knew this company from the start and told him that it is a ponzi scheme.
And there is no way that he can make money from it.
Showed him stats as I am going to show you in this post at the end.
Tried to save him by saying that this company is structured like this and the only person who will make money in it is the company's owner.
Alas,my friend still invested in it and now he ended up losing $1000 and he stopped talking to me because he is guilty and does not even say Hi to me now a days.
I know that this is not necessary and has nothing to do with people helping people review but I know that some of you will still join this ponzi/pyramid scheme after watching and reading all the facts and stats as my friend did.
Red Flags In Php Agency
Yes,there are two or three red flags in php agency.
First thing is that they are trying very hard to hide important details about how to join this company.
I have spent and wasted most of my time guessing how much will I have to invest in the company.
But then I have to go to trustpilot and there were hundreds of people complaining about their expensive startup costs.
So,php agency's startup cost is $600..this is what you have to invest just to enroll in the Php agency as known as people helping people.
Now other then this you have to buy their insurance first and that will cost you around $250.
Buying insurance is necessary so we can say that pyramid scheme can easily take place in this.
$250 + $600 = $850
First let's talk about why you are paying $600?Just to enroll in the company?
This is a straight pyramid scheme structure and I lost respect for the owner of this company,Patrick.
Usually all mlms have some rules to join them,like in Acn and Primerica too.But their startup cost is named after some products.
Wait a second,let me explain it in a better way.
So,yesterday I reviewed a mlm company called Color street which is a beauty mlm company.
Their startup cost was $140 and in this they were giving nail polishes and other makeup physical products.
100% value of your money and also by investing and buying the products you becomes a part of them.
Not with Php,they are charging upfront without giving you any shit in return.
Just enroll and buy insurance to become a part of this mlm company.
So,the second major red flag here is that they are forcing affiliates to buy their insurance too and for this I think it is a pyramid scheme.
Let's move forward.
Similar Mlms?
Yes,there are other insurance mlms too which I reviewed on my website and these are ACN,Primerica,FES and MWR.
BONUS : My #1 Recommendation To Make Money Online In 2021(Free Guide)>>
Php Compensation Plan
Welcome to the JUNGLE!
"A Lion run faster when he is hungry" – SALMAN KHAN
This is exactly what Php agency affiliates do.They are hungry all the time and keep killing their relations for it.
But let's talk about the php agency compensation plan.
Like all other Mlms I reviewed,I have reviewed 300+ multi level marketing companies and all of them have one thing in common.
You know what?
Their complicated compensation plan…I think they tend to do this deliberately.
If you want to learn about Php agency compensation plan then you can go here.
Or else here is a complete breakdown of this company.
Php Agency Affiliate Ranks
There are overall 11 ranks in php agency and you can go from one to another by hitting certain recruiting goals and group sales goals.
One thing to notice here is that group sales goals are way easier than recruiting goals.
By saying that it is clear that this compensation is all about recruiting people into the company.
Another thing is that they have certain goals for you and for achieving those,you will get bonuses.
Trainee
Associate
Field Associate
Director
Director marketing
Senior marketing director
Executive marketing director
Senior Vice president
Executive Vice President
 President Council
Chairman council
Retail Commissions
Your commissions will be directly impacted by the rank you are in Php agency.
How much you can make in Php agency is directly impacted by this.
Here is the percentage of commissions you are going to make in Php in different ranks..
If you are in trainee rank,you are going to make 30% from each sale you bring to Php agency.
Associates will make upto 40% from each sale.
Field Associate will make 50% from each sale they make inside the company.
60% commissions for the affiliates in director.
75% Commissions for the marketing directors
77% for senior marketing director
Executive marketing director,78%
Senior vice president will get 79%
80% For executive marketing director
President council gets 81%
And last one,82% for the Chairman rank and this is the biggest rank in the Php agency/pyramid scheme.
From my personal thinking,their commissions look very great.As compare to other companies but you know what?Selling is the most difficult job one can ever do.
But nevertheless if you are a network marketer,you can actually make money in this pyramid scheme.
Direct Bonus Commission
In this you will have to make certain sales and generate a fixed amount of SV.If you achieve this,you will make 5% to 50% in this.
Generation Bonus
These are the commissions which you are going to make from recruiting.
This is very straight forward,you can actually make good money in this.
And you will not just make money from the people you recruited,but from the downline too.
For example…you recruited a person and he recruited a person and that person recruited another one,you will make money from all of them.
You can  make upto 7 people in your downline and here is the percentage you will get..
10% for the first recruit
On level 2,5%
4% on third level
3% on fourth level
1% from 4th to 7th level
As you can see,if you want to make good money,then you have to focus on recruiting..Php agency is structured like this.
And for this compensation,most people focus on recruiting rather than making retail sales and making money on it.
BONUS : My #1 Recommendation To Make Money Online In 2021(Free Guide)>>
How Much Recruiting is Important in Php Agency?
Good question…
Very important because this pyramid scheme is based on it.If you will not recruit affiliates,you will not achieve any ranks other than first one..Trainee!
And if you want to higher your rank then you have to recruit 3 direct business partners for achieving level 2 commissions.
Just like this you have to recruit 15 basic affiliates and one director to achieve level three commissions.
So,it is very clear that php agency is based on pyramid scheme business model.
Lead Program?
While like other insurance multi level marketing companies Php agency do not provide you with it but they do teach you how to get them.
And they name it project 100 method.
In project 100 method you have to make a list of your close 100 friends and family members to which you have to sell this insurance.
In this you will see some success,according to company.Why?
Because they already know you.
There is no cold calling or cold outreach.
The people you are selling to already know you and for this they are a warm audience,so you will get some success.
But here is my little suggestion.
I do not like to sell anything to f&f members because of this one reasons.I hate selling to friends and family members because they always have trust issues with us.
I remember a quote from the owner of Ali Baba..Jack Ma
"Never sell anything to your relatives because they are the ones who will doubt you and will raise questions that do not exist."
Php Products
Php sells various kinds of products in which third party insurance and financial products are included..
Fixed index Annuity
No medical exam insurance
Return of premium life insurance
Indexed universal life insurance
Also you will have to get certified before selling any kinds of insurance to your friends and family members.
I too,in the past sold Insurance and gave a test for the certificateIt is not hard,just a month of hard study.
For this you can take classes too.
There are fees for getting your license as well.
So,one can expect $1000+ to get started with php agency.
This is by far the most expensive company to join after reviewing after 300+ Mlms.
I remembered that I reviewed two beauty mlms lularoe which was approx $600 and Mary kay which was $300 to get started.
But for this money they are giving you physical products,like clothes stokes.Not with Php agency.
$1000 to get started with a pyramid scheme seems to be very expensive in my opinion.And if you do not know,pyramid schemes are illegal in the USA.
This means that it is not a long term business model and can get shut down by FTC in near future.
Also you are not just investing your money but time as well.
Losing relations as well.Because at the end of day we are not professional sales people and do not know how to sell.
I will get more into it,but let's talk about things I liked in Php agency and things I disliked in php agency.
What I LIke In Php Agency
Zero,I did not like a single thing in this ponzi scheme.
What I Disliked In Php Agency
There are many things which I disliked in the php agency.
Hiding Important Details
This is very sketchy about php agency.
They are hiding main details from their website as to how to join this company and their enrollment fees.
This is because most of their affiliates sell dishonestly to other affiliates and do not tell them people helping people startup cost.
They should tell straight forward on their website that cost to get started is $1000+.
Presenting Themselves As Multi level marketing
There is a very thin gap between pyramid schemes and mlms.
But the mlms do not focus more on recruiting and they focus on selling their physical products.Recruitment is just an option.
You can make money from recruiting too but their main focus is on retail commissions.
And this thing put mlms in a bit grey area as compare to ponzi/pyramid schemes.
Now,totally opposite in php agency
.The owner is trying really hard to get him in that grey area but they are completely red.
They are focusing on recruitment and it is the main thing if you want to make any money from this company.
It is structured like this,that you must have to recruit people.
Other than this they do not have any physical products for which it seems to be a scam.
Low Success Rate
As I told you before that they are very sketchy about the details given.
As they do not provide about their income disclosure.
Most companies tend to do this deliberately because most people lose their money in it.
Like Php agency,most people are losing money and they tend to hide income disclosure from us.
Now let's talk about stats.Most stats showed that 73 to 99% of mlm representatives lose their money after joining them.
Making money is far away from that.
And when it comes to pyramid schemes,failure ratio shoots up to 99.99%.
BONUS : My #1 Recommendation To Make Money Online In 2021(Free Guide)>>
Trading Time With Money
Now,let's suppose you succeed to make some money from this company.
How much you have to work?Well,as the company claims that you can be financially free after joining us.
Financial freedom meaning is that you do not have to worry about money and do whatever you want.
It is totally up to you whether to work or not,where to work or where to not.
This is called financial freedom.Unfortunately you are going nowhere in this pyramid scheme.
You have to work more than your regular job.Let's say you have no issues working 24/7.Can you make passive income after this?No,companies like Php Agency are destined for failures.
You stopped working or did not sell or recruit more people,you are done there.
This is the main thing which I look for before joining any business opportunity.
Whether this business can give me life I want or not?
How much I have to work?Ok,no problem I have to work hard but after this can I make passive income?
Potential of the business model?
Whether the business is long term,sustainable and scalable?
No,in php agency you are not getting any of these.
As I said pyramid schemes are illegal and can be shut down by FTC anytime.Hence proved that it is not long term business.
Marketing Methods
I do not like to sell anything to anybody without them don't even needing it.I hate to pick my phone and disturb everyone for my business.
Not my kind of marketing.
You have to sell your products organically.The people who really need them.I will tell you at the end how to do this…
NFS
NFS stands for no friend zone.
Most of friends and family members get irritated by mlm affiliates because they try really hard to sell their stuff to them.
Because they act really needy in front of them and ultimately end up themselves in the NFS zone.
Php Agency Startup Cost
Usually it is very normal in pyramid schemes.
Their startup costs are very expensive.
I recommend not to invest your hard earned money in them because they are robbers and by giving you an opportunity to make money with them,they are making money themselves.
Just today a china based ponzi scheme was banned.They had the same structure like the Php agency and made $1.1 Billion…SUCCESS!
Owners are headed to prison in China…FAILURE!
You Have To Pass License Test
You know what?Mlms sucks to begin with.And when you hear that you have to pass an exam to join them?
This is extra bad.
If you want to make money in this so called insurance mlm then you have to pass an insurance test.I gave this test and studied really hard for a month or so.
They have 70 passing marks.
Other than this you have to take paid classes.
Now,I am realizing that it is the most difficult company to join among the ones I reviewed.
10 Shocking MLM Statistics That You Need To Know!
Almost 99% participants of all multi level marketing companies lose money,According to the FTC.
There are 38% more chances of you profiting from your own any kind of small business? than joining these mlms.
Success Rate of online business,which will give you financial and time freedom,is 20% more than joining mlms for making money.
The odds of you winning a lottery worth $10k among 10,000 people is 300 times higher than actually making money from mlms.
According to the AARP foundation,47% distributors of all mlms lose their money,apart from this 27% do not make a single penny.
Remaining 26% that actually make money,53% of them make less than $5000/year.
39% among those 53%,who are making $5000/year quit because recruiting and selling crappy products to friends and family members jeopardized their relationships.
Forget about building a long term business with mlm,because 50% of all mlms participants quit within one year.
75% people that join mlms say that they will never ever join any kind of mlm.
A poll was conducted in 2018 among 1050 mlms distributors and it was found that most of them makes 70 cents an hour and 20% of them did not make a sale.60% of them makes less than $500 in sales over the past 5 years and 32% of them acquired credit card debt to finance their mlms involvements.
SOURCE:
BONUS : My #1 Recommendation To Make Money Online In 2021(Free Guide)>>
Is Php Agency A Scam?
Yes,it is kind of a scam and I believe that it will be banned in upcoming times.
As I said that I know Patrick before but did not knew that this company is led by him.Now I kind of lost respect for him.Pyramid schemes are mostly run by scammers.
Who has no intentions other then making money for themselves.
In pyramid schemes the only one who is making money is the owner of the company.
I hope that FTC takes a clear look at this so-called make money opportunity and closes it as soon as possible for the better of people.
Should You Join Php Agency – Final Verdict
No you should stay miles away from this company.
It is a better option then have to regret after joining it.
These companies are structured to scam people like you.$1000 can really change your luck.But for this you have to look for legit business models that can generate money for you in the next 20,30 years.
Not like this business model,few bucks from here and there.
I have a question for you.
Why join mlms when there are more scalable,sustainable and long term business models out there?
If you love selling and bothering your friends and family members then you should go for it.
For me,I hate selling something to people who I know personally.
That is why I do not recommend this business model.
Here is a better business model for you.
If you want to build a business that can generate $10k,$20k,$50k,$100k/month or more then start a lead generation business from today.
Potential of this business is wider than SKY.That's it for today's review.
Before leaving Check Out my #1 recommendation for building an online business.
>>> If You Want To Really Get Rich Online,(at an average of $1500 per sale PER MONTH),Watch This FREE Training <<<